EDIT MAIN
9/24/20 - ojh/chs Parent meeting video recording
---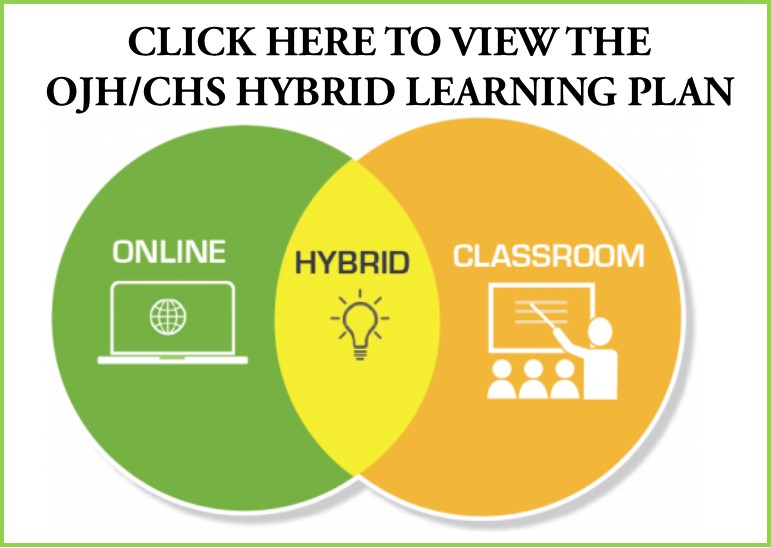 ---
Educational resources from across the web that provide access to e-learning and enrichment opportunities for the whole family!
Children of middle school age and older can access more than 7,000 free videos across 13 subjects with HippoCampus.
Whether you have a child in kindergarten or high school, Breakout EDU has a slew of educational games that touch on subjects like science, math, and language arts.
BrainPop is a great resource for parents of both big and little kids. It's chock-full of helpful resources that span topics like arts and music, English, science, and technology.
Conjuguemos offers some free vocabulary, grammar, and listening activities in Spanish, French, Italian, German, Portuguese, Korean, and Latin for students at all levels.
Izzit is a free site that helps parents and educators teach kids of kindergarten age and older a wide variety of subjects — including language arts, music, math, and world history — through digestible videos.
Whether you have a child in pre-K or seventh grade, you can beat boredom and keep your learner's math skills sharp thanks to dozens of games that focus on everything from counting to algebra on Math Game Time's website.
Who says video games can't be educational? Minecraft: Education Edition teaches kids of all ages problem-solving, collaboration, and creativity.
Designed for kids in kindergarten through fourth grade, the Mystery Science website recently made dozens of its lessons — which range from 15 to 90 minutes — completely free.
National Geographic Kids has put together a site full of free educational videos, games, and activities that center on wildlife and preservation for kids of all ages.
Using Noggin's free website, kids ages 2 and older can watch educational videos on topics like how germs spread, and complete a mix of daily activities from yoga to sing-alongs.
Parents of students who are in pre-K and beyond can easily search the PBS LearningMedia site for content covering science, math, language arts, and more.
Scholastic's "Learn at Home" program gives parents with children pre-K through ninth grade 20 days' worth of "active learning journeys" designed to keep students engaged while they're out of the classroom.
Want a break from educational games? Storyline Online recruits celebrities to read popular children's books geared towards kids ages 4 to 7. Watch and listen as they read aloud on Storyline's YouTube channel.
TweenTribune is a free, not-for-profit online newspaper for kids, aged 8–15. It is updated daily with stories from the Associated Press that are chosen based on relevancy to pre-adolescents.
Common Sense Education provides educators, parents, and students with digital learning tools that engage students and teach them how to behave safely, responsibly, and respectfully online.
Kahn Academy is offering daily lesson plans for educators, students, and parents during the COVID-19 crisis to keep students learning. There are tons of educational resources for any subject.
A fascinating look at life's bigger questions with a fresh perspective. Big History Project is a wonderfully innovative and divergent way to teach foundational concepts in history, humanities, critical thinking, and science.



Fun Brain offers a lot of fun, interactive learning games for kids in grades K-8, plus tools for parents and teachers. Kids can search by grade level or topic.
You can use Scratch to teach students just about any coding concept or element of computational thinking. Then, after students are proficient in using it, Scratch can become another tool for demonstrating learning in just about any content area.
Coursera is an American online learning platform founded in 2012 by Stanford professors Andrew Ng and Daphne Koller that offers massive open online courses, specializations, and degrees. this is a great resource for students getting ready for college!